Slimlite ultra clear self cleaning double glazing for original sash windows
Slimlite are the original company that introduced use of Krypton gasses in the window units. It works on the aspect of friction to create the U-value that is needed for double glazed units.
We tested most of the products from other companies. They all say that they all do the same- but with the difference in price there must be a difference in the quality of the product and believe it or not there is in
the units themselves.
We obtained several different units and we looked at the glass samples. We examined the colour of the glass to the trim divider and the tape that it was packaged in. On all accounts Slimlite came out on top. Its good to ask for the samples because some manufacturers have different iron content in the materials when made. These give a darker colour in the finished product and is noticeable.
.
The winner is Slimlite ultra clear double glazing
Ultra-clear self-cleaning units was by far the best quality we found. Because thin double glazed units have to have a certain amount of iron in them it slightly throws a tint on the glass. It's constructed with 4mm low E glass/ 4mm Cavity/ 4mm Clear Glass with a light transmission of 85% and a solar factor of 79% unlike other units which are based on 75% light transmission. A key point is, when the sun shines the room heats up from solar gain a bit like when you use a magnifying glass on the sun.
This now forms part of the factor when calculations are being done on how to improve window energy ratings and with a total U-value of 1.9 which is a considerable difference to 5.4 U-value of normal single glazed 3-4mm glass that is a 55% reduction in U-value. Slimlite has improved the solar factor in the units by using glass with a good solar spec to increase the overall window rating known as the U-value. That is why they have Low E glass on the inside to reflect the heat back into the building that the sun has generated and free winter heating. A yearly saving in heating for a terraced house could be £300 to £550 if a detached older property.
Old wooden sash windows have great insulation properties when installed with double glazing
Window construction is also a key factor in the calculations. Wood has one of the best thermal insulating properties you can have compared to other products like plastic or metal. It is one of the best things to install double glazing in your old sash window. We have explained before on our history page that original sash windows will last the lifespan of your house if you look after them properly.
A highly efficient panel of super-micro double glazing. A panel so finely detailed and slim (at 10 or 12mm thick) that it can be puttied into a Victorian sash or a finely carved Georgian lamb's-tongue glazing bar and not be noticed. A panel that can be heat-treated to give a
subtle warp to the surface to mimic the hand-blown crown or cylinder glass of yesteryear
Kevin McCloud. Trade Secrets Period Drama
Slimlite Construction
The glass also has no double reflection that you get in bigger units. With a sight line of only 5mm where other manufactures are slightly bigger, this means that you will not see any of the spacing divider when installed into your original sash window. Other products we found have bigger spacers and could have caused problems if you wanted to be discreet about where you installed this product ie: listed properties or conservation areas. The way you install Slimlite with best result we have found is using Hodgson Butyl and Hodgsons linseed putty.
There is no need to seal the units with glazing silicone like other companies have said, because as long as the Butyl has sealed the units there is no problem. Other manufacturers will specify this but this is due to their construction. Many have failed in the past creating a condensation mist were the gas has leaked out. An additional reason as to why we only use Slimlite is they are the only manufacturer to offer a 10yr guarantee. With Slimlite we follow their strict glazing installation procedure to ensure we are covered by their warranty.
Architectural Double glazing
Slimlite glazing also comes in architectural glass as well. This has had a heat treatment process to give your glazing that cylinder glass look of days gone by, still in keeping with the original property. Edinburgh City Council, Historic Scotland and Edinburgh World Heritage have approved the use of Slimlite Double Glazed Units. They have been approved on A and B Listed Buildings in Edinburgh which has the largest stock of Listed Buildings of any City in the UK except London.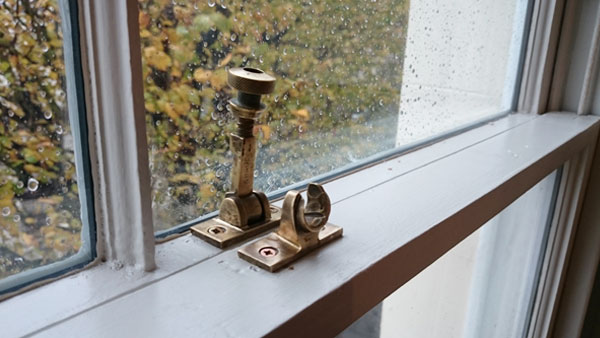 Slimlite Installation.
The windows are installed with glazing sprigs every 150mm so it doesn't effect any of the self-cleaning screen on the external glass when using these instead of nails – which could scratch the glass. This also gives a tight fixing point and less movement when the glass is installed the butyl must be used so that when the sash windows expand, retract and move in the summer, winter and through movement and heat the glass itself has somewhere to go when it expands and will not crack the windows themselves. We have found that Hodgsons putty is one of the best but when you install units it is a good idea to actually put some Tetrium or marble dust in the putties to speed up the putty curing so the final painting can be done and should be done after 7 to 10 days and no later than 28 days.
Traffic and Nuisance neighbours are not just a sleep depriving disturbance; it may shorten your life, according to new research which also links noisy roads to an increased risk of stroke. Heart and artery disease were also linked to traffic deaths, which according to scientists could be due to raised blood pressure, sleep problems and stress brought about by the noise.
The World Health Organisation defines 55 dB as a noise level that can cause health problems for a community and is the same dB level as loud conversation. Read more…
Alexandra Sims. Wednesday 24 June 2015. The Independent Newspaper
Living in a city can have its draw backs with noise.
Living in Brighton is one of the most beautiful places on the south coast but it is also one of the busiest, with the university getting bigger every year, no where to build so people are creating more flats to make more money, and not to mention that Brighton has always been a destination for the young party people whether it is living here or coming down for the weekend.
People from London are trying to escape the noise and frantic nature of city life and come to Brighton. Arguably, you can get so much more for your money and people are buying up town houses to create their dream home. But then the dream is shattered when they realise that living so close to the sea has its advantages and a serious amount of disadvantages. One of the main things is NOISE pollution.
has Slimlite double glazing got a acoustic quality
Brighton was built on a grid system in the Regency period so noise will travel, especially in the city centre area. We looked at getting some acoustic glass for a customer the cost is a little bit more than the average slimlite units but due to the size that you need for acoustic glass this was not available for one of our projects. The size of the glass was going to finish at 15 mm with a 6/4/4 construction this only came in at a 35 decibel reduction rate and at nearly twice the price, adding a lot more weight on the windows. So, this was not an option even though the windows were 45mm instead of the usual 40mm there were other things to consider with the restriction of the sashes opening it was not really a viable option. Slimlite Ultra clear comes in at 31 decibel reduction in human noise and 27 decibel reduction in traffic noise. Normal double glazing comes in at 25db, a sound reduction of 3 decibels is very noticeable but this is 6 over normal double glazing. We actually tested the noise when we had finished the job and the difference was unbelievable. It flat lined at 40db until a bus went by and then it was just a slight hum at 44 db and this was 50mtrs from a busy main road (Western Road) in Brighton. We hope that this has been informative and if you have any questions regarding how to reduce the noise in your home please feel free to contact us and we will give you a free survey at any time.
Example of noise Decibel ratings
0dB human threshold

10dB Breathing and this is Barely audible

20dB Rustling leaves

30dB Rural ambient sound

40dB Library and bird call

44dB Is the lowest limit of urban ambient sound One-eighth as loud as 70 dB.

50dB Quiet suburban area, conversation at home.

60dB Conversation in restaurant, office, background music,

68dB Cars at 20 meters from a busy main road.Average speed of 30mph.

70dB cars at 10 meters

80db busy traffic at 10 meters

85dB Risk of hearing damage from long term exposure

90dB Power tools

100dB Pneumatic Road Drill

120dB Hearing Damage due to short term exposure
120dB Amplified music @ 2m or a loud car sterio
120dB Threshold of pain.
slimlite Certification
Certification CE BSEN1279 APPROVED
CE BSEN1279 APPROVED, DECLARATION OF PERFORMANCE NO. 0015CPR 07-2013
To manufacture double glazed units, certification is required for BSEN1279 Part 2, production quality BSEN1279 Part 3, which relates to gas leakage at less than 1% per annum. Certification is your guarantee of quality.
Certificate BSEN1279 Part 2 BSI 262/4677672 (Production Quality)
Certificate BSEN1279 Part 3 BSI 371/7758378 (Gas Leakage)
Certificate BSEN1279 Part 6 SDG0703/11870B Annex B Audit Test
Certificate BSEN673 UKAS Certified U-Value (Insulation)
Certificate BSEN150 8990. National Physical Laboratory Thermal Transmittance
Certificate AC-09-140-03/09 ISO 717-1 Sound Reduction
Safety Glass Standards
Safety glass must be installed in anything with a sightline below 800mm.
Toughened glass, Class 1 BSEN 12150
Laminated glass, Class 2 BSEN 14449